Wil je ook een wijnkoelkast of wijnklimaatkast in je keuken? Bekijk de tips
APPARATUUR
4 min leestijd
Goede wijn smaakt extra lekker op de juiste temperatuur rechtstreeks uit de wijnkoelkast. Geweldig als je dat meteen kunt organiseren in je nieuwe keuken!
Een klimaatkoelkast met glazen deur maakt de keuken super gastvrij en gezellig . Geweldig om de flessen in het kookeiland te zien liggen.
Er zijn niet alleen uiterlijke verschillen. Hieronder lees je meer over de wijnkoelkast, wijnklimaatkast en wijnbewaarkast. Je kunt natuurlijk ook terecht bij je eigen Keukencoach. Die helpt je graag en kan je ook hierover alle uitleg geven.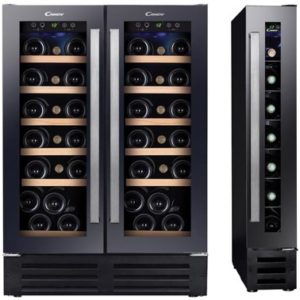 Wanneer kies je een wijnklimaatkast, wijnkoelkast of wijnbewaarkast?
Je ziet de benamingen wijnkoelkast en wijnklimaatkast wel eens verwisseld worden, toch zijn er zeker verschillen. Zeker ten opzichte van de wijnbewaarkast.
Wanneer plaats je een wijnkoelkast?
Een wijnkoelkast wordt ook omschreven als wijnkoeler. De wijnkoelkast is bedoeld om de flessen voor direct gebruik op drinktemperatuur te houden. Deze wijnkoeler kan de wijn lekker snel op serveertemperatuur brengen. Handig voor een feestje!
Een wijnkoelkast kan koelen in één temperatuurzone en is vaak compact van formaat met plaats voor enkele flessen. Je kunt deze perfect in de keuken inbouwen wanneer je wat minder ruimte hebt. Eventueel als losstaand model op het werkblad.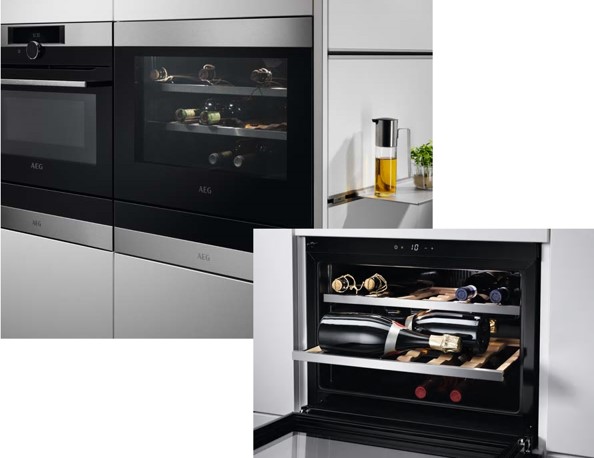 Wanneer plaats je een wijnklimaatkast?
Een wijnklimaatkast is veelzijdiger en heeft (minimaal) 2 temperatuurzones: met een aparte serveertemperatuur voor witte wijn (7-12 graden) en rode wijn (14-18 graden). Zo houdt de wijnklimaatkast beide wijnen perfect op smaak.
Sommige wijnklimaatkasten hebben nog meer temperatuurzones zodat je ook voor rosé, champagne en speciaalbieren een eigen rek kunt inrichten. Of wil je misschien een segment gebruiken om je flessen langer te laten rijpen? Een interessant verschil met de wijnkoelkast is de verwarmingsfunctie van veel wijnklimaatkasten. Daardoor kunnen ze ook winterproof in de berging, garage of bijkeuken geplaatst worden.
Wanneer plaats je een wijnbewaarkast?
Een wijnbewaarkast is ontworpen om speciale wijnen jaren te kunnen laten rijpen onder ideale omstandigheden. Het idee is dat de deur van een wijnbewaarkast aanmerkelijk minder vaak geopend wordt dan die van een wijnkoelkast of wijnklimaatkast. Er is één algemene bewaartemperatuur (10-12 graden) voor alle wijnen die samen met de constante luchtvochtigheid een rustige omgeving biedt om de smaak optimaal te laten ontwikkelen. Er zijn inmiddels er ook wijnbewaarkasten met deuren van donker isolatieglas met UV filter. Daardoor kun je de smakelijke flessen toch blijven bewonderen.
Een wijnbewaarkast is doorgaans vrijstaand en meestal flink groot zodat er ruimte is voor een mooie wijnverzameling.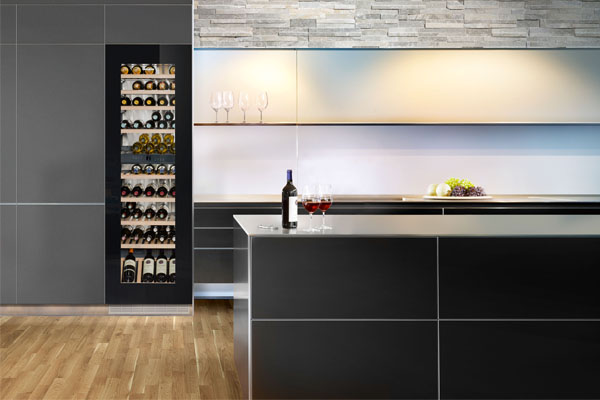 Specificaties van wijnklimaatkast of wijnkoelkast vergelijken
 Geluid en trillingen
Vooral bij een open keuken wil je niet te veel geluid horen van een wijnkoelkast of wijnklimaatkast. Het geluid wordt uitgedrukt in dB (decibel).
Wijnen houden van rust. Trillingen zijn van invloed op het rijpingsproces van de wijnen. Dit speelt een rol wanneer je wijnen langer wilt bewaren. Trillingsdemping is vooral van belang bij een wijnbewaarkast.
Energieverbruik
Een beter energielabel van je wijnkoelkast helpt je besparen op de stroomkosten. Daar koop je toch liever een paar mooie flessen wijn voor?
Wijnkoelkast als inbouw, vrijstaand of onderbouw model?
Een vrijstaand model wijnklimaatkast of wijnkoeler kan niet worden ingebouwd omdat de warmte dan niet goed wordt afgevoerd.
Afmetingen
De afmetingen van een wijnkoelkast zijn voor de inbouw en de de inhoud interessant. Het aantal flessen in de wijnschappen kan variëren. Sommige wijnklimaatkasten hebben wijnrekken van hout dat oogt echt professioneel!
 Deuropties
Achter een glazen deur met LED verlichting kun je de flessen blijven bewonderen.
Een deur met slot biedt extra bewaarmogelijkheden…
Zie je een wijnkoelkast of wijnklimaatkast wel zitten in jouw keuken?
Bespreek het met jouw Keukencoach! Samen kies je de wijnkoelkast die het best in jouw keukenontwerp past.
Inspiratie: bij I-KOOK klanten thuis
Deze keukens zijn pas opgeleverd!
Neem een kijkje bij andere klanten thuis
...en laat je inspireren!