Also become a franchisee at I-KOOK
I-KOOK is a member of the Dutch Franchise Association.
About I-KOOK
In 2001, brothers Jaap and Roel Oostra thought the kitchen market was ripe for something different. Together they developed the contemporary and sincere I-KOOK formula with the mission: "Personal attention and guidance for everyone, resulting in a unique, high-quality and affordable kitchen." The first store was opened in 2001 in Hattem, close to Zwolle. There are now 27 stores that are running successfully. The principles of those days still form the basis for the most recently opened stores: simply being honest without unnecessary embellishment and fancy and always for the best price!
The company is built on the people, there is an open culture and hardly any hierarchy. At I-KOOK you just have to exhibit logical behavior, always in the best interest of the customer. Many rules are not necessary for this. The kitchen coaches have a lot of room for their own interpretation and are given a lot of responsibility to make their customers happy.
"The company is built on the people, there is an open culture and hardly any hierarchy."
Your Role as a Franchisee
As a franchisee of I-KOOK, you are part of a close-knit team and have a major impact on the success of our unique brand. Therefore, a perfect match with our people and our brand is very important. At I-KOOK, we are caring, knowledgeable and honest and this is what we also look for in entrepreneurs:
You have reasonable knowledge about kitchens in different segments
You understand what good service means and know how to surprise the customer every time
You have leadership and coaching qualities to motivate and enable your team to perform optimally
You believe in a long-term vision
To become an entrepreneur at I-KOOK, you do not necessarily need to have experience with kitchens. However, it is important that you gather a lot of knowledge before you take the final step. The organization will provide you with tailored support in this regard, for example through coaching and by facilitating an internship period.
You get a lot of freedom and we make sure you can use your strengths in the right way. Together with entrepreneurs Jaap and Roel Oostra you will form a team that builds a strong plan, in which your qualities can be used to the maximum.
Financing your store
As a franchisee, you are expected to have a basis for investment. Depending on the size and location of the store, the investment amount may vary. I-KOOK will guide and support you well in this regard. We will help finance the store and put you in touch with different lending institutions. When there is a need, we are able to generate customized solutions.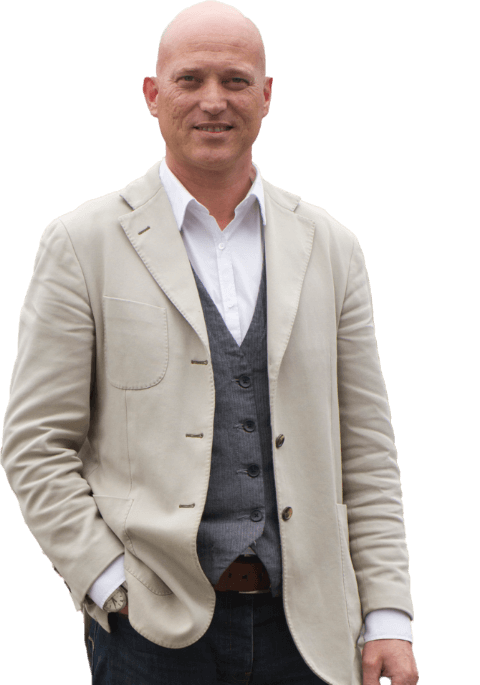 I-KOOK entrepreneurs Jan Klinge and Hayo Smit
Within our I-KOOK formula, we encourage entrepreneurship and offer every opportunity for development. We offer opportunities to grow and build a future together. In the article series 'Coffee and Kitchens' I, Roel Oostra, enter into conversation with enterprising kitchen professionals. Today I even talk to two of them at the same time!
The first one is from Veendam and his name is Hayo Smit. Together we participate in
I-KOOK Veendam. Hayo is a product of the region and an up-and-coming craftsman with heart for the business. He is from the "first hour"; we have been working together for almost 20 years.
The second is a Tukker and his name is Jan Klinge, franchise entrepreneur of I-KOOK Hengelo. He used to run the kitchen department at IKEA and decided to start his own business just before the credit crunch in 2008. Jan is driven and substantively very strong. He looks at things from different points of view. I have also known him for a long time (since 2007) and we trust each other blindly. Both entrepreneurs take great pride in their team and do everything they can to keep everyone motivated.
We unburden you so you can focus on the important things
As an entrepreneur, you want to be able to focus on growth. All I-KOOK stores are supported by the service office, where our people take a lot out of your hands. So you will be completely relieved when it comes to:
Processing and handling orders
Marketing activities; both national and local
Training and education of the team through the KitchenCoach Academy
In addition, we offer a fully equipped store according to the corporate identity of I-KOOK. As an entrepreneur, you naturally have a share in the above points, but you can always rely on the solid foundation that has been laid over the past few years. Your valuable time can be spent running the store.
Excited and want more information?
Please enter your information below and we will contact you as soon as possible.
Take a look at other customers' homes
...And be inspired!