Marmerlook keuken inspiratie in jouw keukenstijl!
INSPIRATIE
6 min leestijd
Een marmer keuken heeft de luxe uitstraling waar jij van droomt! Het stijlvolle marmer is prachtig als aanrechtblad, achterwand, keukenfrontjes en vloer in jouw perfecte keuken. Ik vertel je graag over de unieke kanten van de chique marmer en marmerlook keuken. Met de marmerlook keuken inspiratie foto's in al je favoriete keukenstijlen, zie je de nieuwste trends voor jouw mooiste marmer keuken!

Altijd al je eigen keuken willen ontwerpen? Start meteen de gratis I-KOOK keukenplanner en je kunt direct aan de slag! Je begint eenvoudig met keukenkasten schuiven en het uitkiezen van de kleuren voor kastdeurtjes en het aanrechtblad, wat je maar wil. Je kunt je keukenontwerp altijd aanpassen en delen. Het is heel leuk om te doen!
Een marmerlook keuken, jouw droomkeuken!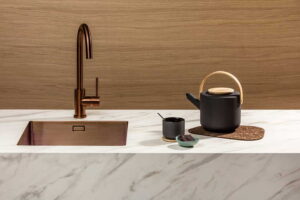 Waarom is marmer zo uniek in je keuken?
Een marmer keuken is zeer speciaal omdat iedere plaat marmer een eigen unieke tekening heeft.

De natuur heeft in de loop der tijden het kalksteen z'n prachtige aders gegeven. Bij echt marmer weet je dus nooit precies wat de structuren en patronen van je aanrechtblad zullen zijn. Wil je genieten van deze stijlvolle natuursteen én beter weten welk patroon je keukenblad krijgt? Er zijn stijlvolle materialen die de aders en kleuren van marmer heel precies nabootsen en jouw marmerlook keuken de luxe uitstraling geven die jij wenst! Er is volop keuze uit zeer goed lijkende marmer aanrechtbladen in kunststof, composiet en keramiek.
Waar zie je marmer in de keuken schitteren?
Marmeren aanrechtblad
Marmer achterwand keuken
Keukendeurtjes en ladefronten met marmer decor
Marmeren zijpanelen van het kookeiland en bar
Marmer keukenaccessoires
In de mooie foto's bij dit blog zie je hoe een stijlvolle marmer keuken op verschillende bijzondere manieren samengesteld kan worden.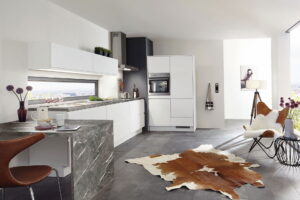 – FOTO: Witte moderne keuken met grijs marmeren keukenblad & bar
Bovenstaande foto is een prachtig marmerlook keuken inspiratie voorbeeld van een moderne keuken. In de trendy mat witte keuken is grijs de contrastkleur. Naast de grijze vloer, muur en het raamkozijn schittert het grijze marmeren aanrechtblad en bar. Het bruin van de koeienvacht en de lederen fauteuils is de accentkleur in deze marmerlook keuken.

Een hoogglans witte of zwarte marmerlook keuken brengt glamour in je woning. Metalen accenten van de keukenapparatuur, kokend-water-kraan en de spoelbak geven je luxe keuken de nodige bling. Marmer in stijlvolle bruintinten in combinatie met houten keukenkasten leggen de nadruk op een meer warme en gezellige sfeer.
Stijlvolle marmeren keukenbladen
Even speciale aandacht voor het marmer aanrechtblad, het meest geplaatste onderdeel van marmer in de keuken!

Een stijlvol meterslang stuk natuursteen als werkblad is ongelooflijk mooi om te zien en prachtig om op te werken. Als alternatief voor het kwetsbare en kostbare marmer zijn er geweldig natuurgetrouwe marmer look-a-likes in composiet, kunststof en keramiek die de marmerlook keuken dezelfde kwaliteit en klasse laten uitstralen als de marmer keuken. Op de kosten en het onderhoud van marmer kom ik later terug.
– FOTO: Evora Quartz Calacatta Gold & Marquina – wit & zwart marmerlook composiet voor de luxe keuken
Bovenstaande foto laat je twee bijzondere marmerlook keuken inspiratie voorbeelden in composiet zien. Evora Quartz Calacatta Gold is een chique witte marmerlook met grijze en gouden aders. In het zwarte composiet van Evora Quartz Marguina knallen de witte adres uit je marmer keuken. Je kunt er bij beide 'kleuren' voor kiezen om naast je marmer werkblad, ook de zijpanelen en desnoods de achterwand door te trekken in dit exclusieve Calacatta Gold of Marguina zwart.

De marmerlook composiet platen, ook wel slabs genoemd, zijn maximaal 120cm bij 300cm groot zonder patroon herhaling.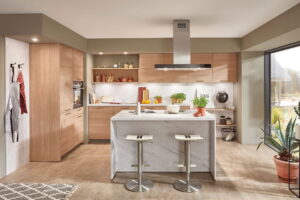 – FOTO: Klassieke houten keuken met marmerlook kookeiland
Het stijlvolle kookeiland op bovenstaande marmerlook keuken inspiratie foto is het stralende middelpunt in de houten L-keuken. Ook het werkblad en de achterwand hebben hetzelfde marmerlook patroon.
Hoe verzorg je marmer?
Marmer bestaat uit kalksteen dat sterk is, maar een enigszins open structuur heeft.

Water en andere vloeistoffen kunnen in het marmer trekken met lelijke vlekken als gevolg. Door het op z'n tijd te impregneren, bescherm je het steen in enigermate. Om veilig te zijn, verban schuurmiddelen en bijtende schoonmaakmiddelen volledig uit je marmer keuken!

De marmerlook keuken maakt het je veel makkelijker. Kunststof, composiet en zeker keramiek is harder materiaal waar (veel) minder snel vlekken ontstaan en het vraagt minder onderhoud.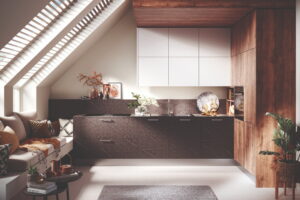 – FOTO: Design keuken met zwart marmerlook keukenblok & achterwand
Heb je een kleine keukenruimte maar wil je wel een grootse keuken? Daar is bovenstaande foto het perfecte marmerlook keuken inspiratie voorbeeld van. De chique zwarte marmerlook keukenfrontjes en vensterbank combineren fantastisch met de kraakheldere matte bovenkastjes en de robuuste hoge houten keukenkasten. Top!
Een marmerlook keuken, wel de lusten maar niet de lasten!
Wat betaal je voor een marmer keuken?
Marmer is een uitzonderlijke natuursteen dat gewonnen wordt in een steengroeve. Ieder stuk marmer is uniek en daar hangt een prijskaartje aan.

Hoe groter de plaat, hoe groter de kans op schade. De prijzen voor marmer verschillen per kleur. De ene kleur is zeldzamer dan het andere patroon. Hoe groot het stuk gaat worden, de hoogte en verdere bewerkingen, dit speelt allemaal een rol in de totale prijs.

De zeer realistische marmerlook patronen van kunststof/laminaat en composiet geven je marmerlook keuken hetzelfde luxe uiterlijk tegen een lagere prijs. Keramisch marmer zit in de hogere prijsklasse maar dan heb je ook een aanrechtblad dat 100% waterdicht is en waarop je met een mes kunt snijden.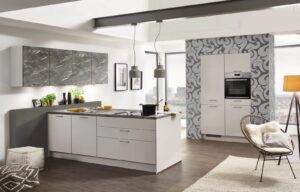 – FOTO: Moderne T-keuken met marmerlook bovenkastjes
Zie hoe je op een speelse manier met een grijs voorzetwandje en een schiereiland, een moderne T-keuken creëert. De marmerlook keuken inspiratie zit hem in de marmerlook bovenkastjes boven het keukeneiland. Helemaal volgens de keukentrends van nu worden kleuren en structuren prachtig met elkaar afgewisseld.
Marmer keuken, ook jouw bijzondere keuken?
Een marmer keuken is een unieke en zeer stijlvolle keuken. In een open ruimte is je marmer of marmerlook keuken het schitterende middelpunt waar de luxe vanaf straalt.

Een keukencoach van I-KOOK stelt geheel naar jouw wensen en binnen je budget, de marmeren keuken van je dromen samen. Bespreek je ideeën en laat je verrassen door de goede adviezen van deze betrouwbare keukenspecialist. De reviews van eerdere I-KOOK klanten zijn een grote marmerlook keuken inspiratie bron. Ik zou ze zeker even lezen.

Maak direct een adviesafspraak met een keukencoach en kom kijken in de I-KOOK winkel in je buurt!
Inspiratie: bij I-KOOK klanten thuis
Deze keukens zijn pas opgeleverd!
Neem een kijkje bij andere klanten thuis
...en laat je inspireren!