Grijze keukens van modern, industrieel, design tot landelijk!
Een grijze keuken is in alle stijlen bijzonder elegant en eigentijds! Vind je een lichtgrijze keuken chique design of geniet je van een landelijke keuken in de moderne grijze kleur? Hou je van een betonlook keuken of juist een lichtgrijze hoogglans keuken. Of denk je: ik ga de keuken grijs verven? Dan ben je hier precies bij het goede blog én adres. Ik laat je zien waaruit de geweldige grijze keukens zijn samengesteld en hoe je dezelfde sfeer kunt bereiken in alle keukenstijlen.
Welke grijze keuken past bij jou? In de I-KOOK keukenplanner kun je makkelijk kiezen uit verschillende grijze keukendeurtjes, keukenbladen, zelfs plinten en nog veel meer. Probeer het direct zelf!
Een keukencoach kan zoveel verschillende grijze keukens voor je ontwerpen! Vertel al je keukenwensen en de ervaren keukenadviseur maakt een prachtig 3D keukenontwerp van jouw favoriete donker- of lichtgrijze keuken. Altijd tegen een eerlijke prijs en binnen je budget!
100% Grijze keuken-plezier!
Mat grijze moderne keuken
Op de moderne grijze keuken foto zie je:
Grijze kastdeurtjes, werkblad, keuken achterwand en bovenkastjes betonlook keuken grijs
Roestig metaal decor als 'accent' kleur
LED keukenverlichting onder de bovenkastjes en in de open vakken
Houten uittrekpanelen als sfeermaker
Bovenstaande chique moderne grijze keuken kom je zo tegen in een stadsappartement. In deze donkergrijze keuken zijn niet alleen de keukendeurtjes, maar ook de keukenkasten en het werkblad in de kleur schiefer grijs. Het accentueert het metallic decor Rusty Plates van de bovenkastdeurtjes, de wand achter de muurplanken en het verhoogde stuk werkblad. Onder dit blok bevinden zich twee onderkasten met antraciet metalen uittrekpanelen voorzien van massief eikenhout frontjes. Hout geeft moderne grijze keukens een meer natuurlijke sfeer!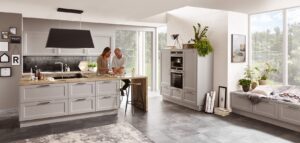 Landelijke grijze keuken
Op de grijze landelijke keuken foto zie je:
Grijze onder- en bovenkasten en een halfhoge kastenwand
Kaderdeuren – landelijke keuken grijs, steengrijs
(Decor) houten keukenblad + bar
Inductiekookplaat met eiland afzuigkap
Tegel decor TileMix spatwand
Sfeervolle raambank
Wat een warmte en gezelligheid straalt deze landelijke lichtgrijze keuken uit! De laklaminaat kader keukendeurtjes en het keukenblok hebben de kleur steengrijs gekregen. Naast steen als inspiratiebron uit de natuur, draagt ook zeker het keukenblad  met hout decor Mixwood zijn 'steentje' bij aan de landelijke look. Kijk hoe het werkblad doorloopt in een leuke plek om aan te zitten. Zie jij je al heerlijk samen koken en wijnen aan de grijze keuken met kookeiland en bar? Of lig je liever lekker lui te wezen op het bijpassende raambankje? Het kan allemaal in deze grijze landelijke keuken met hout accenten!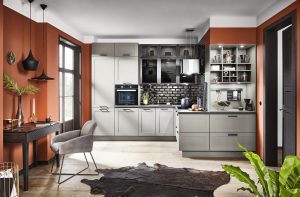 Grijze modern landelijke keuken
Op de foto van de landelijke grijze keuken met moderne accenten zie je:
Hoge grijze keukenkasten
Kaderdeuren – landelijke keuken grijs, parelgrijs
Inductiekookplaat
Design eiland afzuigkap
Zwarte metro tegels
Grijs keukenblad
Praktische koffiecorner
Ook hier zie je de grijze keukenkastjes met kaderdeuren en open kastruimte als landelijk sfeerdetail in het grijze keuken ontwerp terugkomen. De zwarte metrotegels, donker getinte glazen kastdeurtjes, design afzuigkap en de rest van het strakke interieur maken de lichtgrijze keuken meer modern, dan landelijk. Voeg in grijze keukens de twee stijlen samen en je creëert eigentijdse keukens waarin je gezellig samen kunt koken en babbelen!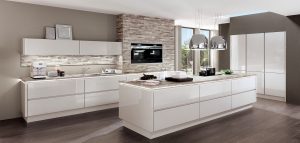 Grijze hoogglans design keuken
Op de hoogglans grijze keuken foto zie je:
Een strak design lichtgrijze keuken met kookeiland en kastenwand
Stijlvolle hoogglans keuken met verlichte greeplijsten
Twee chroom design eiland afzuigkappen
'Schouw' met inbouw ovens
De heel lichtgrijze keuken is prachtig gecombineerd met aarde tinten. In deze hoogglans parallel keuken met 'penthouse' uitstraling zijn zowel de deurtjes, zijpanelen en het keukenblok in de keuken grijs kleur: zijde grijs. Een natuurlijk en zacht tintje krijgt deze chique keuken met het werkblad in Maracaibo decor. Met deze metsel steen look wordt ook een schouw gevormd waarin twee moderne ovens zijn geplaatst. Met verlichte bijpassende zijdegrijze greeplijsten schitteren hoogglans grijze keukens ook in de avond.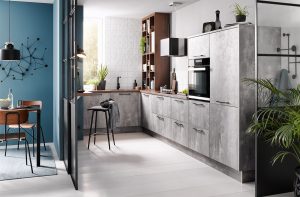 Betonlook grijze keuken
Op de grijze betonlook keuken foto zie je:
Een blauw grijze keuken in L-vorm
Geplamuurde betonlook keukendeurtjes, zijpanelen en plinten
Zwarte kraan, design afzuigkap en stalen deuren
Robuust hout decor werkblad, hoge openkast en bar
Kijk hier hoe de grijze betonlook keuken helemaal gezellig staat te zijn! Het sfeervolle hout decor van het aanrecht loopt recht omhoog door in een open vakkenkast en in het barretje op links. De hippe keukenaccessoires en oven zorgen voor zwarte industriële accenten in de robuuste keuken grijs betonlook stijl. Een stoer ontwerp met ruimte voor je keukengadgets en weelderige planten, geweldig toch? Leuk dat je in deze kleine lichtgrijze keuken er toch gezellig bij kunt komen zitten aan de bar.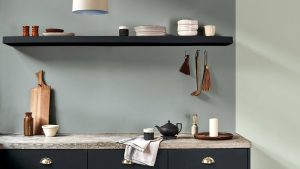 Je keuken grijs verven
Op de foto van de grijs geverfde keuken zie je:
Groen grijze keuken kleurencombinatie op de muren
Antraciet verfkleur op de deurfronten en keukenplanken
Je keuken grijs verven, leuke klus! Zoals je op de foto kunt zien, is de groene trendkleur verf Tranquil Dawn op de keukenmuren perfect in combinatie met de tint koel grijs van Flexa . Om de verfijnde en minimalistische look te versterken kun je de wandplanken en keukenkastjes schilderen in mat antraciet. Keukenaccessoires in natuurlijke materialen als een mooie houten snijplank en messenblok brengen extra sfeer en warmte in deze antraciet grijze keuken.
Industriële grijze keuken
Op de industriële grijze keuken foto zie je:
Decor staal geborstelde keukendeurtjes en ladefronten
Zwart betonlook aanrechtblad
RVS professionele keukenkraan met spoeldouche
Dubbele chroom design eiland afzuigkap boven inductie kookplaat
De lichtgrijze keuken met professionele geborsteld staal look is het industriële keuken neusje van de zalm voor thuis! De blinkende keuken grijs staaloptiek van de fronten is een perfecte match met de RVS inbouwoven, stoere keukenkraan met flexibele slang en de twee indrukwekkende kokervormige afzuigkappen. Staal grijze keukens zijn de keukens van de toekomst!
Zie je jouw grijze keuken al bij je thuis staan te pronken?
Grijze keukens zijn een plaatje om te zien in vele keukenstijlen! Je kunt je grijze keuken perfect combineren met andere mooie kleuren en materialen.
Heb jij al ideeën voor jouw lichtgrijze keuken of vind je een grijze betonlook helemaal stoer? Een keukencoach laat je alle keuken grijs kleuren zien in de I-KOOK winkel. Ga samen aan de slag en ontdek binnen je budget, welke keukenindeling jouw grijze droomkeuken is! Voor meer grijze keuken inspiratie lees je alvast de eerlijke ervaringen van I-KOOK klanten.
Neem een kijkje bij andere klanten thuis
...en laat je inspireren!